HOW DID IT ALL BEGIN IN 2007 ?
(Scroll down to find life stories which interest you & click on the PDF )
I am a fan of Desert Island Discs . It inspired me to invent Oxtopia and  to dispatch 120 amazing people to my  mythical island .
The video journalist and castaway Zoe Broughtonis not only a fine film maker but is obviously a good teacher too. Students on her 3 day course at Film Oxford made this 3 minute film for Sobell House.Oxford Castaways 3 is on sale at Sobell House and in their shops and on their website. (£10)
All proceeds go to the hospice. https://www.youtube.com/watch?v=ea-viXdvSm4 "Film about Oxford Castaways ">
LATEST NEWS OF CASTAWAYS     
QU LEI LEI   
In 2005 one of the 5 founders of The Stars Art Movement, Qu Leilei told me the story of the Stars 'illegal' show and their courageous march to Tiananmen Square demanding artistic freedom.The feature below gives a glimpse into his epic life(NINE LIVES?) His latest exhibition Qu Leilei ; A Chinese artist in Britain  is at the Ashmolean until April 2018.  See below the painting used for the promotion of the  show.
Feb 2016 feature:Qu Leilei Castaway.
Here is Ling Tang's translation of the feature  into Mandarin with lots of extra images!
https://mp.weixin.qq.com/s?__biz=MzA4MzY1Njg0Nw==&tempkey=OTMxX3pYMjdhVzJ0SDNKUHBRcGRpM0lIUG5pLUdad2xud29GRXRoM19IN3ZEcFVJd3J5Z2l1VFJ2bE1KSkJfa09qR2RTcUZoUnpKaG1rRjNXX2wxQzd4M1FrZHI4WHBTMGtZUmRVUUVkZTZrcGxZQWJnMVVPX3hzSkI2Q3BLdENfdjZaZmNPNHZqTnNHVWdjVEUwek40eVhDVFFUUU9rVlhUV0tZMGh4VVF%2Bfg%3D%3D&chksm=07ec4c84309bc5927faf588b078e6f40b922f01c4ec5f46eb7d195dbd8cdcbd2e6c40ca5319c#rd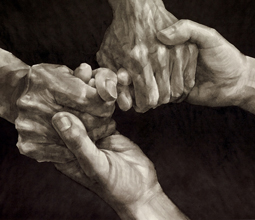 Another Chinese artist!
WEIMIN HE : Weimin at ROQ   Weimin Castaway
Weimin was born in Manchuria . I first met him when he curated China Prints at the Ashmolean . The PdF   Weimin @ROQ shows some of  his paintings as  University of Oxford Artist in Residence.  A book of his work will be published in 2018. I was moved when Weimin made this woodcut inspired by a poem I wrote watching him work at the ROQ. The poem is on a hoarding in Jericho.  A picture  by Weimin is on the cover of Poems in an Exhibition. He also designed the cover of Oxford Castaways .
Read his life story- his journey from Manchuria to Oxford via Belfast  by clicking on Weimin Castaway .
Bill Heine
Just announced in the Oxford Mail .
http://www.oxfordmail.co.uk/…/15649376.Bill_Heine___Doctor…/
Because of the shark in his roof Bill seems like part of the fabric of Oxford and invincible. I have so many good memories associated with Bill Heine that I found this hard to take in. He was the third Oxtopian in the castaway series. The features were shorter in those days but Bill's choice was 'Embrace 'by John Buckley who also made the Shark and the arms and legs of his cinemas. Bill and John had suggested putting 'Embrace' on the Berlin Wall but that wall came down. I suggested a wall a bit closer- Belfast! I also castaway his friend John (see pic of John 's feature)
Some of this won't make a lot of sense out of context! It is the introductory film for the KOA Fifties Fandango 20th April 2013. https://vimeo.com/64536645   Within seconds you hear Bill's unforgettable voice. You also meet another American Oxtopian who has put down roots in Oxford Peggy Seeger . That film was made by Philip Hind  who I introduced to Bill when he came to speak in Kennington at our Literary Festival in 2010. That resulted in 'Ultimate Survivor' Philip's film about the Penultimate Picture Palace.
In https://vimeo.com/64536645 you see an interview between Bill and an another castaway Charlotte Bannister-Parker . Bill became an advisor for the Children's Radio Foundation of which she is president. I also introduced him to  another Oxtopian . Nancy Huntof the Nasio Trust and he went on a memorable recorded visit to their project in West Kenya along with a group of sixth formers from Wallingford- a life changing experience. I could go on but you will understand why I can't really take in this news. 
The launch of the final  castaway book  Oxford Castaways 3  was compered  by Rev Charlotte  Bannister Parker.
Charlotte and her parents Roger and Moyra Bannister  are Oxtopians. I love the pic below of her with Roger at the launch of OC3   My  feature about  her and St Mary's University Church  has been published in Oxfordshire Limited Edition. St Mary's  provides a lot more than the best view in Oxford! Read about it here  Charlotte and St Mary's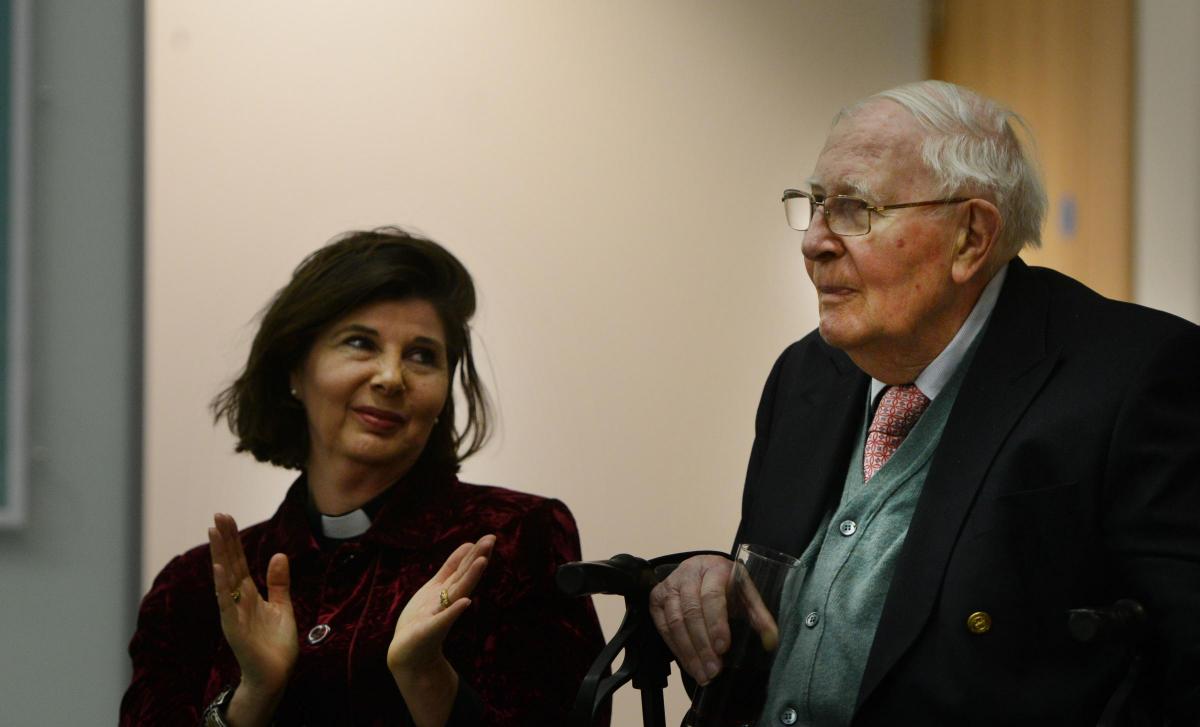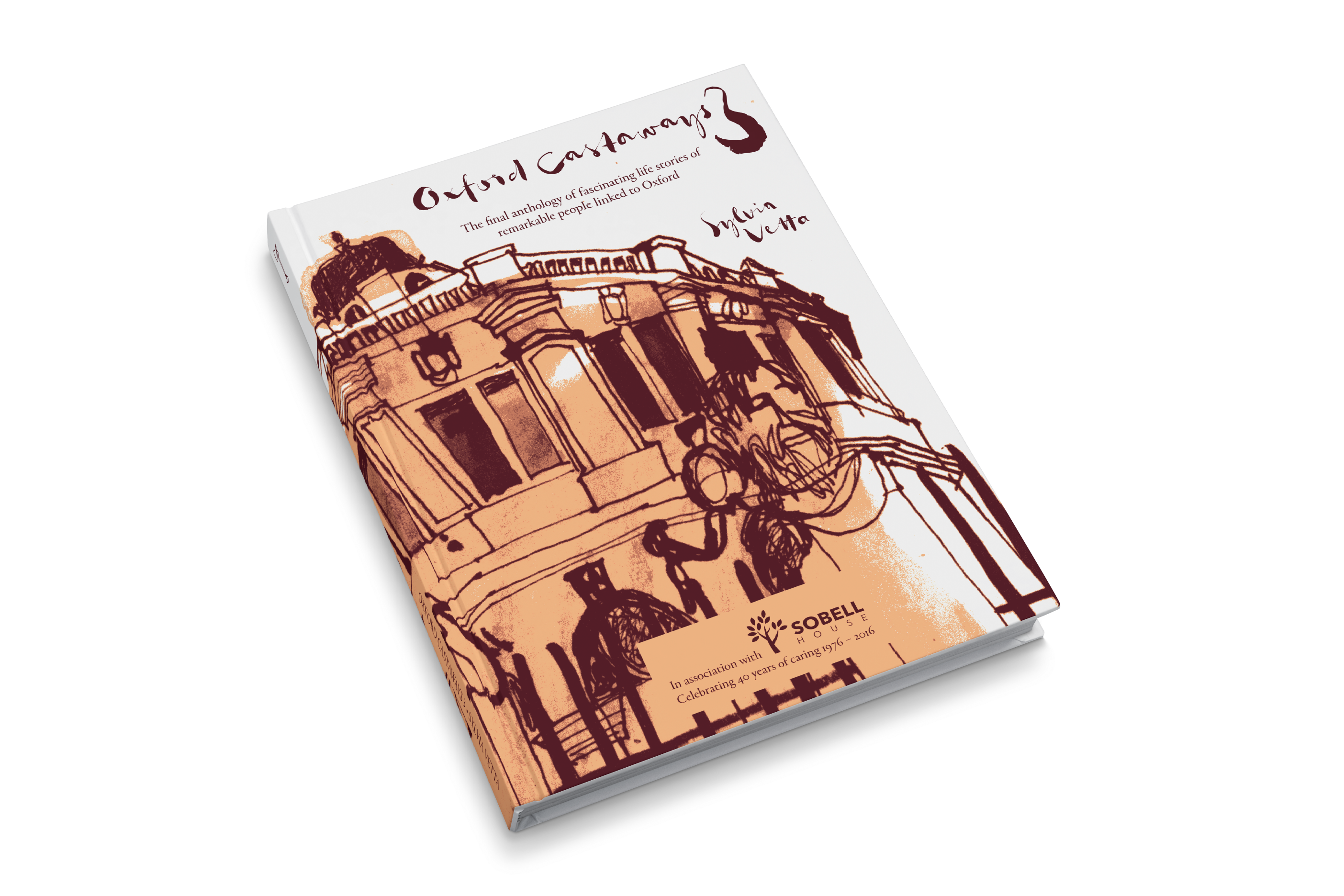 Roger Bannister is one of the inhabitants of my invented island of Oxtopia . He  was made a Companion of Honour in the New Year's Honours List becoming one of just 54 living people to be so honoured. Without the hard work he put into the early days of the Sports Council and his championing of the idea of Sport for All, I doubt we would have enjoyed such success at recent Olympic  Games. I was privileged to castaway Roger and Moyra Bannister and to review his autobiography Twin Tracks.  I can't think of anyone more deserving of being an OXTOPIAN!  In 2011, he talked to me about his career as a neurologist and at the time one incredible  story  was a scoop but you can also read it in his in his auto biography.
The castaway feature is like a potted biography . Click on the link to read it .roger-and-moyra-bannister
Oxford castaways 3 was  launched on March 9 in the  new Maths Institute. The launch venues of the first 2 books were the Ashmolean Cast Gallery and the Story Museum. The pic below is of me at the green Fair selling books. This year's Green Fair is on December 2 2017 in Oxford Town Hall from 11-4pm.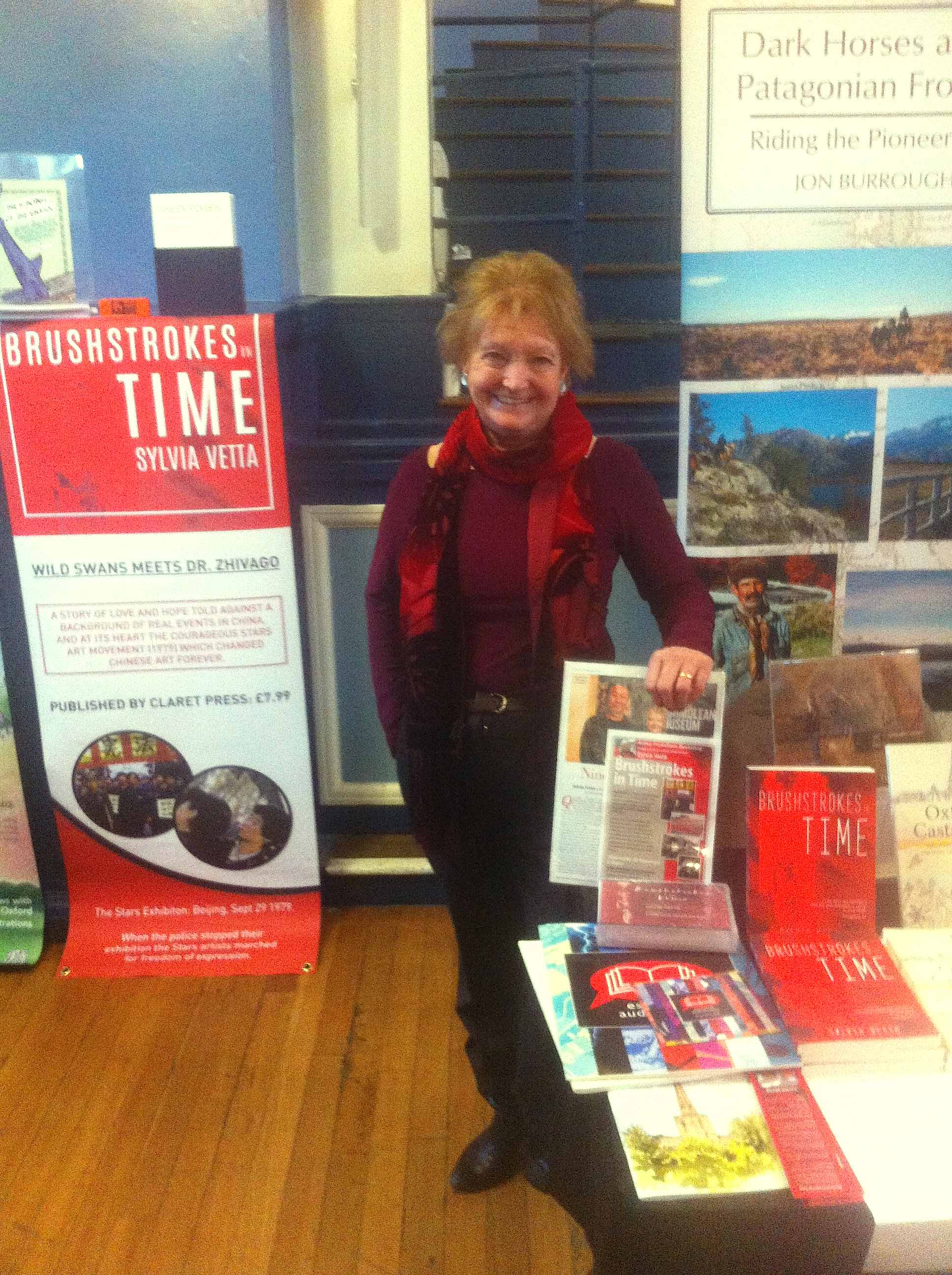 NOVEMBER 2016 and I am the FINAL CASTAWAY
Today I became the final resident of Oxtopia! Philip Hind is v flattering in his warm -hearted feature.
There is a little confusion about Atam. Atam was born near Lahore and fled into  India@ partition .
Philip also took this pic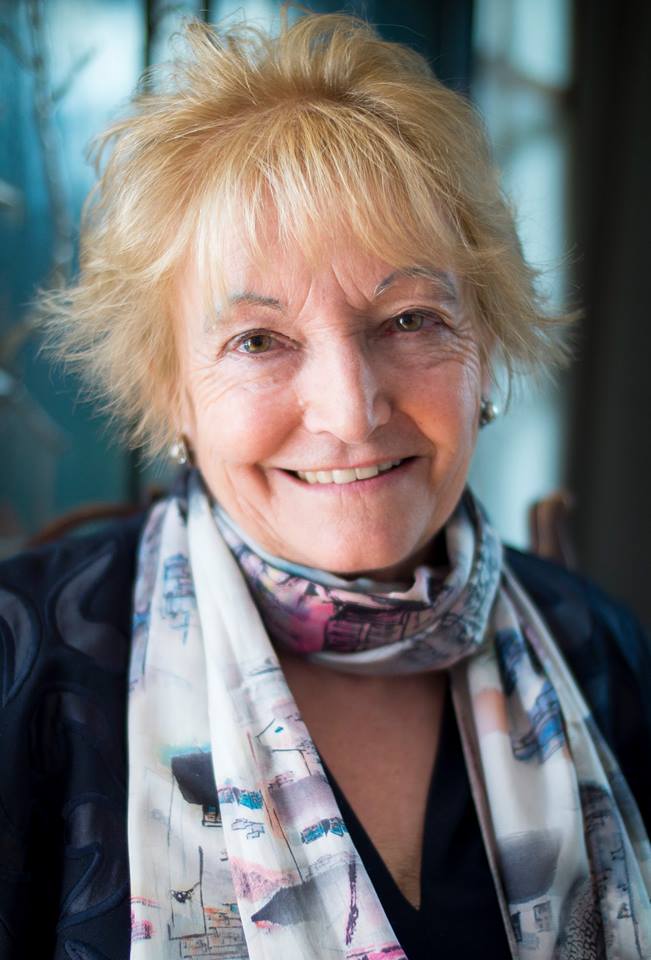 Because the series will end on its tenth anniversary, oxford folio are making a special offer of  my books Oxford Castaways and Oxford Castaways 2 which contain 90 inspirational life stories.
The final 25 castaway features will be in Oxford Castaways 3 was published in March 2017 in support of Sobell House thanks to Dwina Gibb.  In the meantime 1 and 2 are available at a snip.
October 2016:  Here is the last castaway feature written by me.
castaways-revisited-october-2016
September 1: Poets, Artists and Authors are revisited in this month's edition of Oxfordshire Limited Edition magazine as the castaway series draws to a close.
Read about the inspirational things castaways have been doing. John Buckley's art on the plinth in Trafalgar Square and Weimin He's on hoardings in Oxford, Jenny Lewis's  emotive poetry for peace competition launching at the Ashmolean,Mick Smith remembering Foley the spy who saved 10,000 Jews, a TV series starring  Korky Paul's Winnie the Witch and a treat on Channel 4 at Christmas courtesy of Joanna Harrison and Michael Rosen and even more.
Castaways Revisited some Poets , Authors and Artists
In AUGUST 2016 I sent my last castaway to Oxtopia!
In the nine years I have been writing the castaway series for Oxfordshire Limited Edition, I have sent 118 inspirational people of incredibly diverse backgrounds to my mythical island of OXTOPIA.  Because of experiences I had as a young woman I approach people as individuals and have no preconceptions when it comes to gender, race, nationality or class. From my perspective Icolyn Smith, a child of a subsistence farmer in Jamaica, and Lady Carnarvon, the mistress of the real Downtown Abbey are equals and I liked them both. What matters to me is how people live, create and contribute to making Oxfordshire and the world a better place  in which to live.
I have had the privilege  of interviewing some  famous even legendary people like Sir Roger Bannister who was recently  honoured with a delightful programme on BBC 2  titled Roger Bannister : Everest on the Tracks.  Then there have been the directors of prestigious institutions like July 2016 castaway  Paul Hobson. But I am so pleased that I am also able to interview  people you have probably never heard of but who have made special contributions to their community or have a great story to tell. My last castaway is one of those. Gillian Cox was the founding chairman of Vale House. Oxford Castaways 2 was published on behalf of Vale House and  because of that the Castaway feature includes an offer for copies at the bargain price of £5.
GILLIAN COX: Gillian Cox Castaway
Here is a photo of Gillian with me and  James Harrison of Oxfordfolio who published Oxford Castaways 2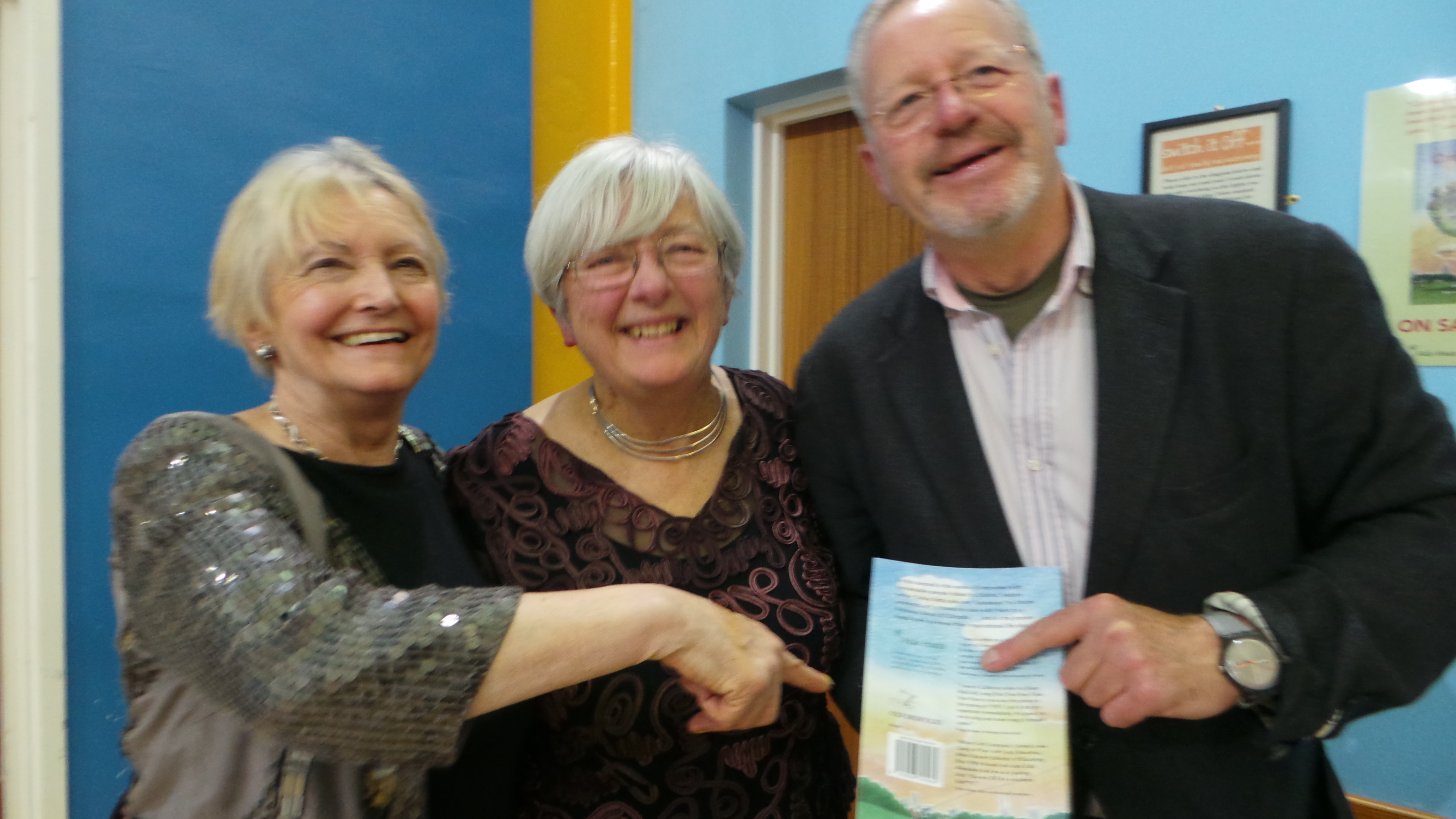 JULY 2016 Castaway: Paul Hobson : The Director of Modern Art Oxford.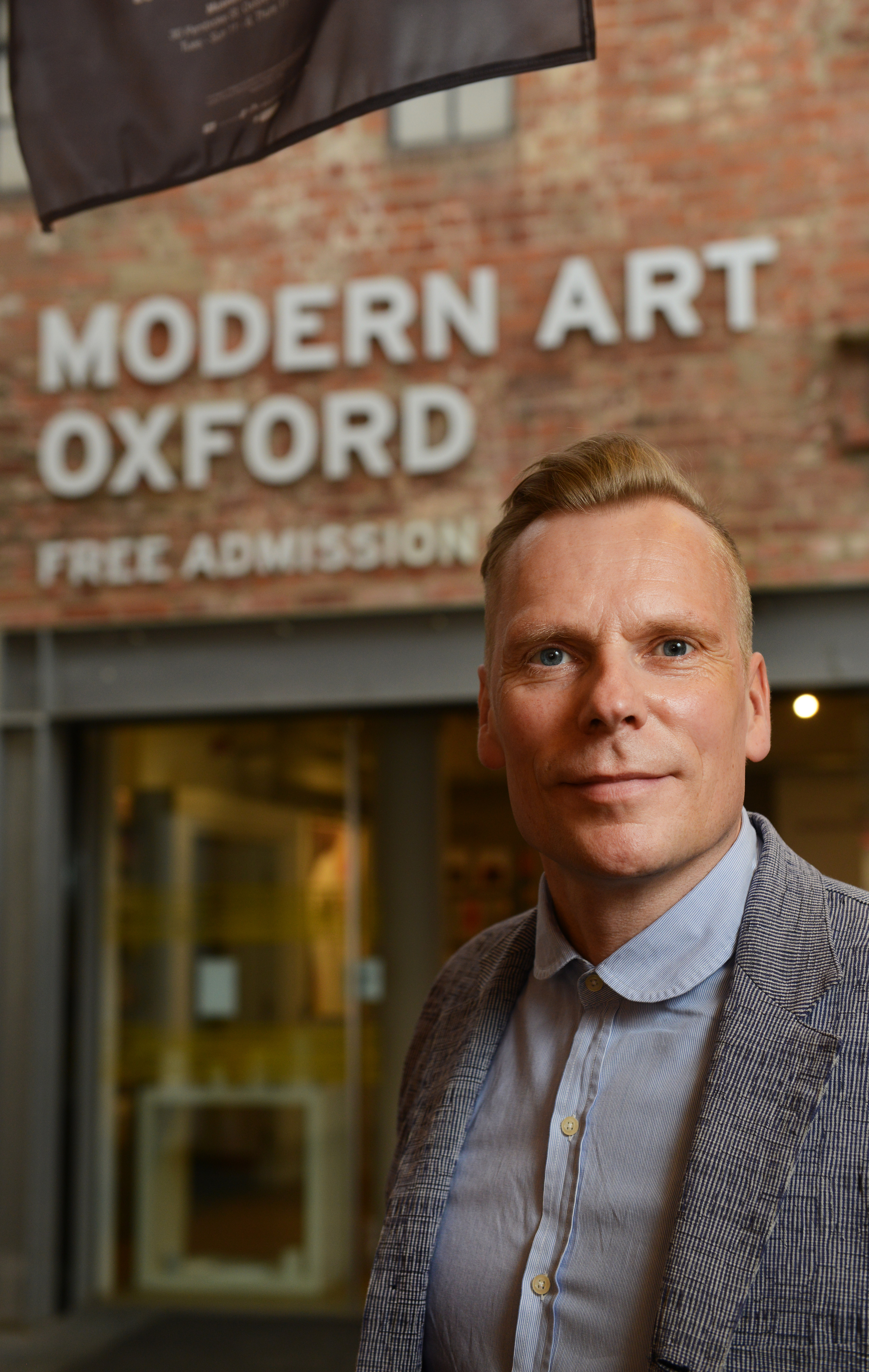 You can read and see the feature if you click on the Pdf. (Life can be a circular walk?)
JOHN BUCKLEY
Sculptor. Locally, John is best known for making Bill Heine's shark but he also created an anti-war memorial for the International Campaign to ban Landmines (MAG). John was on the trust of MAG when the organisation was joint winner of The Nobel Peace prize. As an artist he has literally journeyed  into the dark heart of conflict in Cambodia, Sudan and Haiti. John made a bronze sculpture called Bladerunner for the Cultural Olympiad.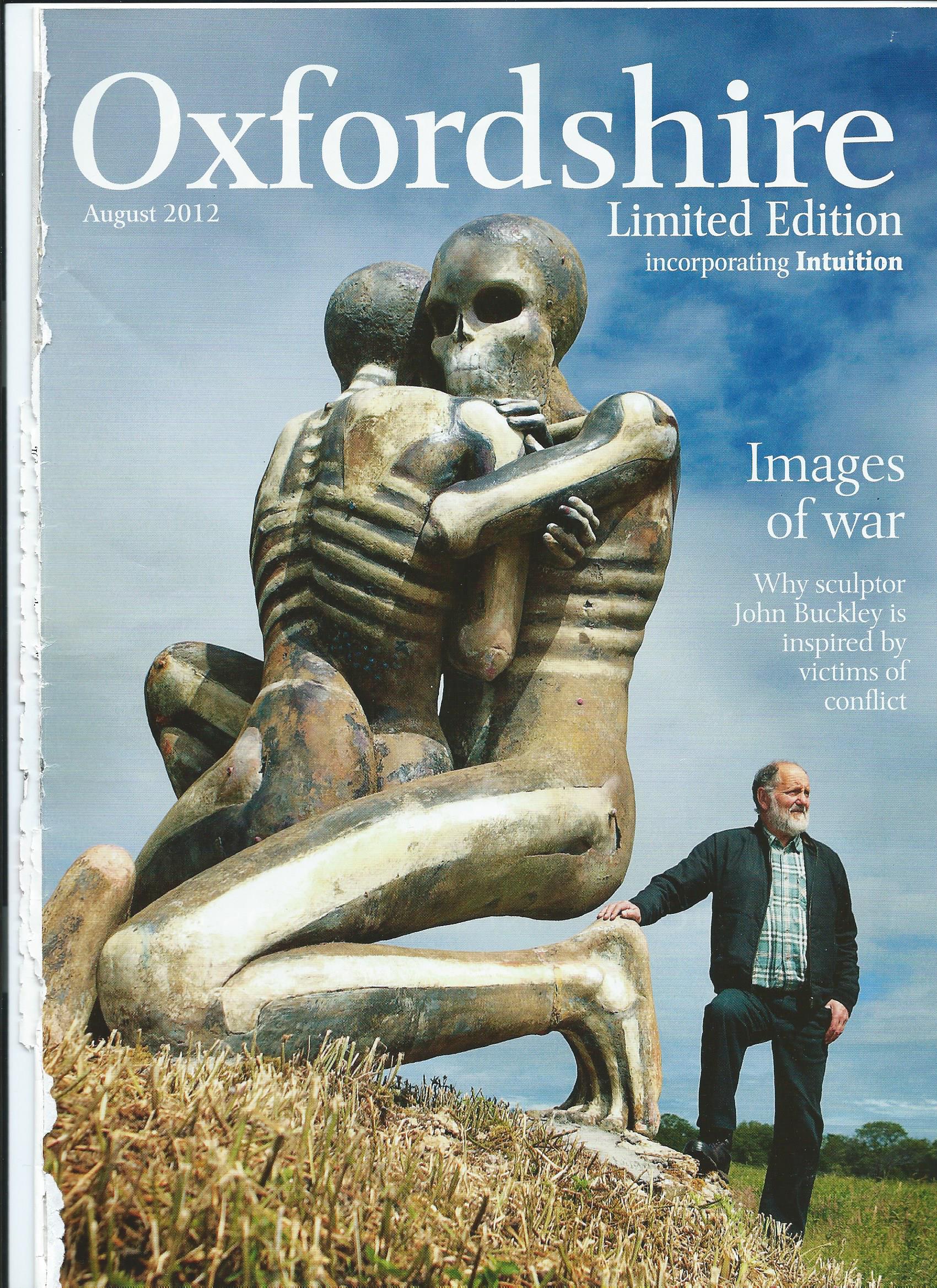 SIMONETTA AGNELLO HORNBY  is one of my oldest and kindest friends. She was an early castaway. On May 27 2016 she was interviewed on Woman's Hour at the recommendation of Baroness Patricia Scotland who is now the Secretary General of the Commonwealth.
http://www.bbc.co.uk/programmes/p03vlycq#in=collection:p039nv9g
Her castaway feature  was an early one :  March 2009
http://www.oxfordtimes.co.uk/lifestyle/people/4187188.The_pagoda__of_dreams
Herself a best selling novelist( writing in Italian but translated into 24 languages) Simonetta graced the launch of Brushstrokes in Time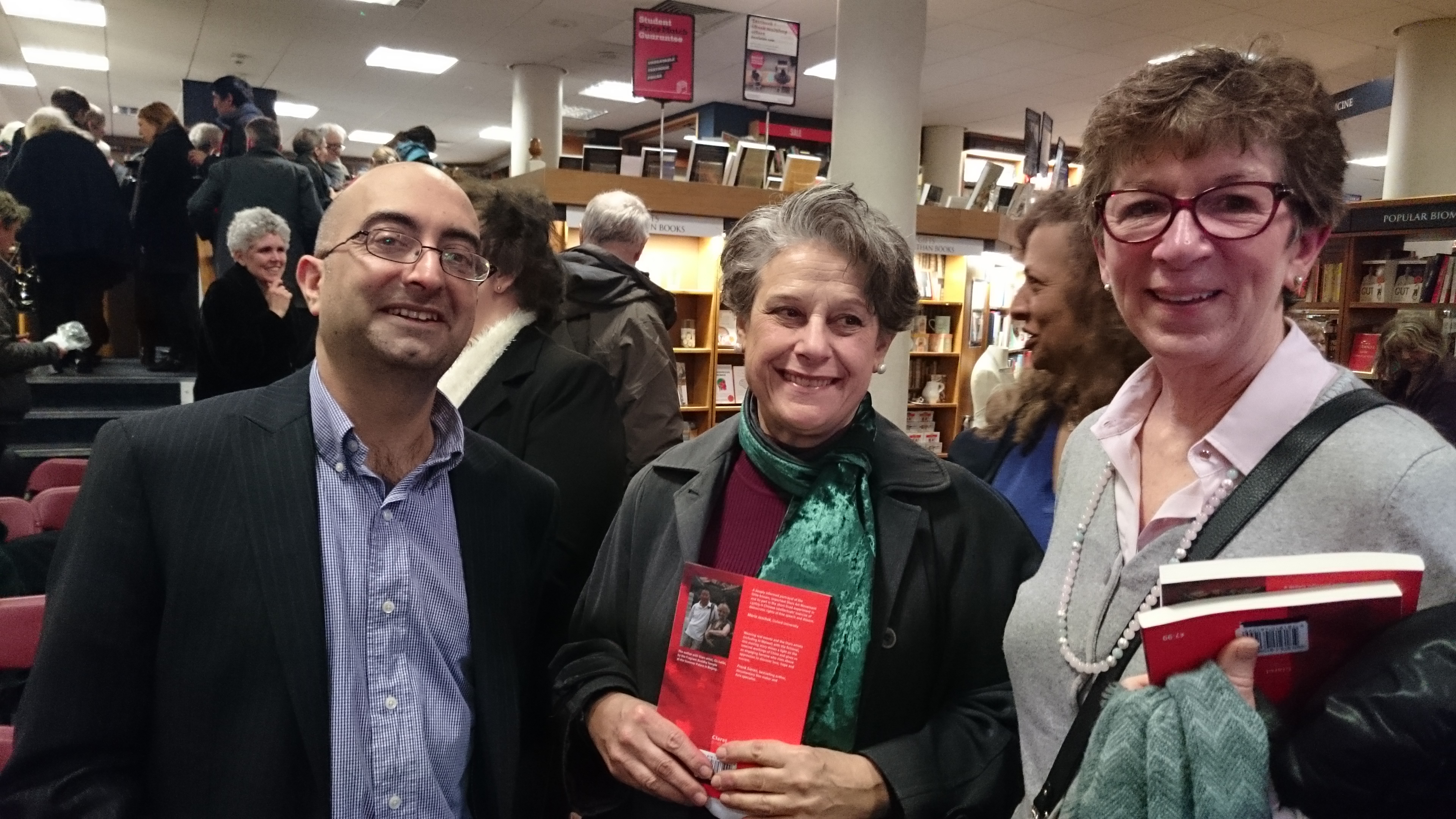 CHARLOTTE BANNISTER PARKER of The Children's Radio Foundation
http://www.dailymail.co.uk/wires/afp/article-3649890/Africa-summit-tackles-violence-against-albinos.html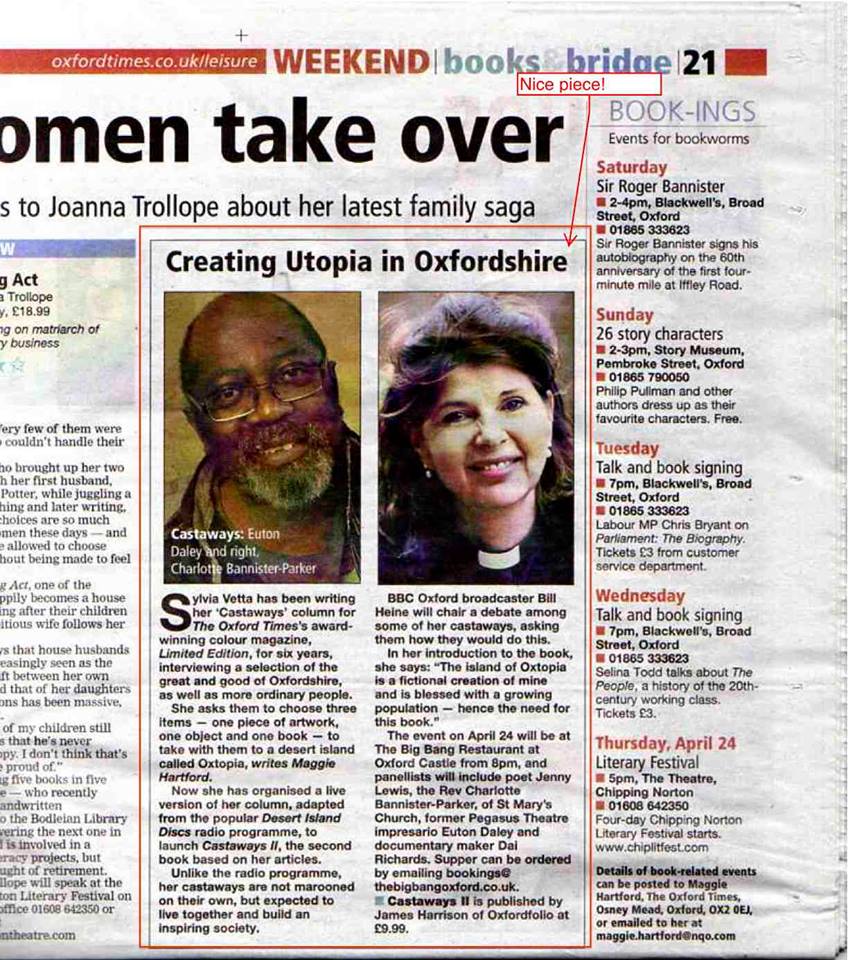 My village of Kennington, through KOA, funded the skin care programme implemented by Standing Voice mentioned in the Mail on Line link (above) We have introduced Standing Voice to the Children's Radio Foundation and part of the 2016 KOA project is the training together of young people with and without albinism to be radio reporters to broadcast to 3 million Africans in the hope that it will reduce prejudice.
CRF's director Charlotte Bannister Parker is a castaway!
RAY FOULK
'The Last Great Event' by Oxford Castaway, Ray Foulk ( with Caroline Foulk) is the second part of his memoir of The Isle of Wight Festivals. Not long after I interviewed him for Oxford Castaways ,there was a knock on his door. It was an old family friend who had taken lots of photographs in 1969 and 1970 after which he headed south for OZ. He had returned for the first time in 40years. He came bearing gifts – a box filled with undeveloped film from the festivals . Ray had been remembering with me and he had stored memorabilia from those years, this was like a final piece in the jig saw. He set about writing his memoirs with determination.
Weimin He sketched the Blackwell launch of 'Stealing Dylan from Woodstock' (part one of Ray's Isle of Wight memoir.) Sadly I can't be the compere at the launch of The Last Great Event at Blackwell (Oxford) on June 8 because I have a prior engagement talking about the importance of life stories to Garsington WI. I know which will be the most fun!
Ray has enjoyed many successful careers since 1970 and you can read about them in Oxford Castaways.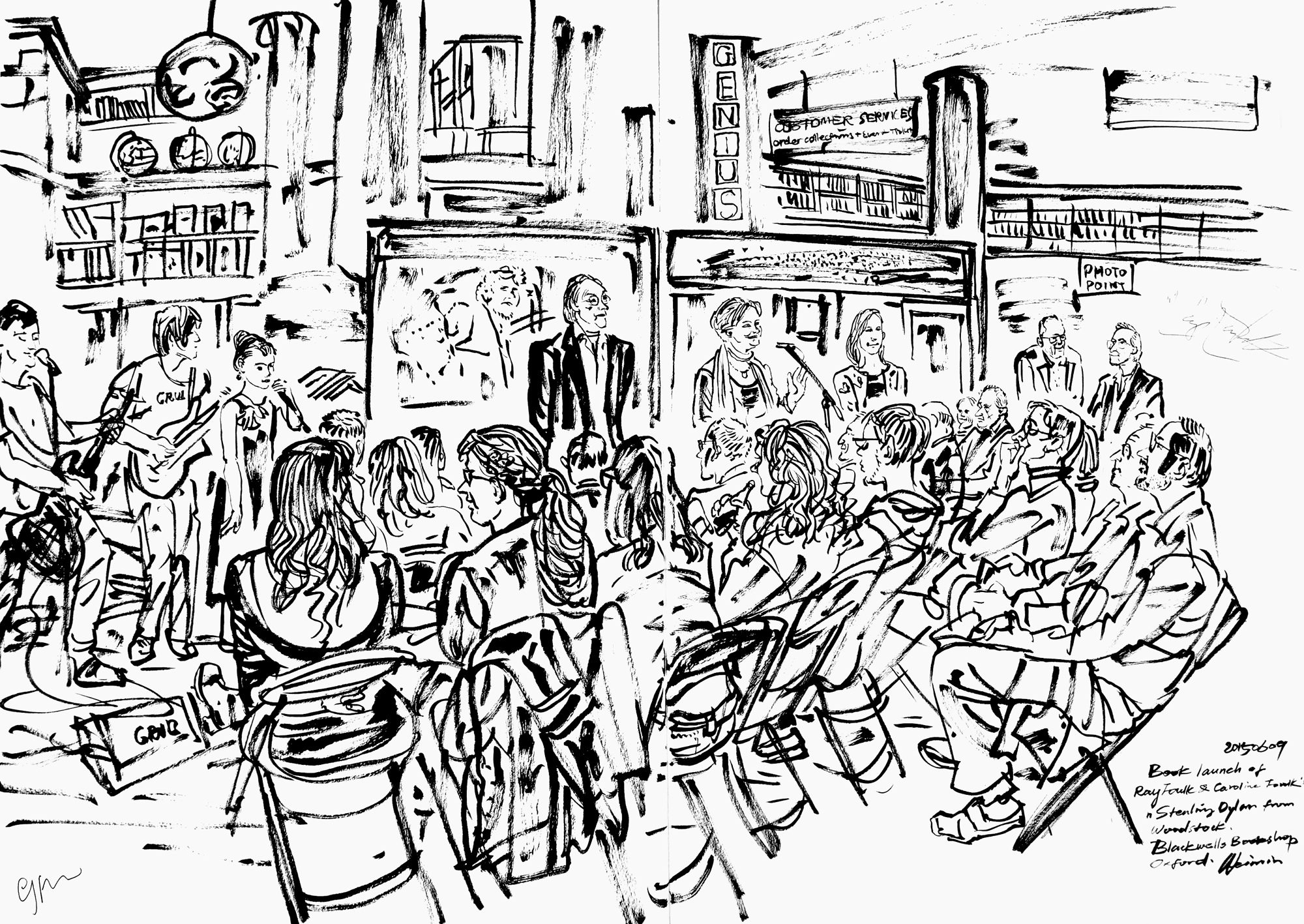 May 2016 DENNIS HARRISON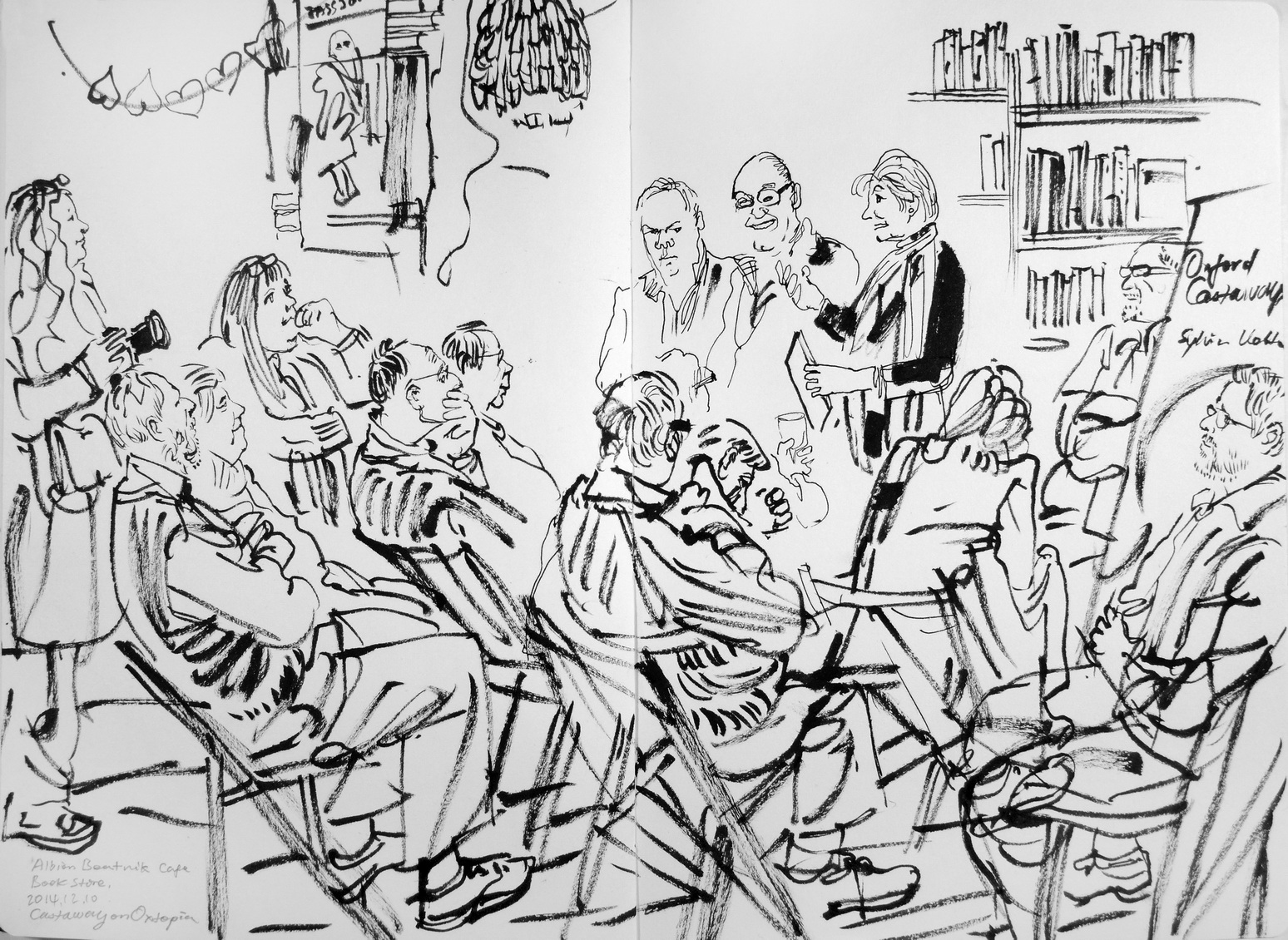 The poet Jenny Lewis says,
" Many poets and writers, both local and from further afield, have launched their books here. Dennis is managing to keep the 'cafe life' tradition going and I'm sure he and his iconic bookstore will go down in history alongside the Inkling's 'Bird and Baby' pub (Eagle and Child on St. Giles) and The Turf Tavern and Oscar Wilde,"
So maybe I was making history at this castaway event in his Albion Beatnik Bookstore. Weimin He sketched and Oxtopians Korky Paul and Victor Glynn described life on the island.
Click on the underlined names to see the features with the magazine's fabulous photography in Oxfordshire Limited Edition :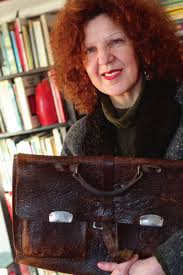 MARIA JASCHOK, the director of International Gender Studies at Oxford
Maria compered the launch of Brushstrokes in Time and wrote a wonderful endorsement for the foreword.
She is filming a documentary in Shanghai.The documentary is for educational institutions but she would love to get wider recognition of the tradition of women's mosques and female imams in China. You can read her moving family story here.
Of female mosques and imams Maria says,
"The visit to the women's mosque in Kaifeng (Thursday, Michael Wood China Series) lasted just over one minute, providing merely for a brief glimpse of women worshipping in the Prayer Hall, and for a brief exchange between Wood and unidentified women in the courtyard of the mosque. This visit ended with Wood's exclamation that he had never before encountered women's mosques . But the history of women's mosques is a long one. The incorporation of women into educational projects during late Ming and early Qing Islamic renaissance (17th century), inspired by Hui Muslim intellectuals and educationalists.
The growth and consolidation of women's own spaces of worship, education and congregation were only halted with the religious persecutions of the 1950s, and hesitantly resumed in the course of less repressive government treatment of religions during the 1980s. Women's mosques have reopened, or, especially in the Muslim communities of central China, have been built anew, most especially since the late 1990s ."
QU LEI LEI  February 2016  
In 2005 one of the 5 founders of The Stars Art Movement, QuLeilei told me the story of the Stars 'illegal' show and their courageous march for artistic freedom.The feature below gives a glimpse into his epic life(NINE LIVES?)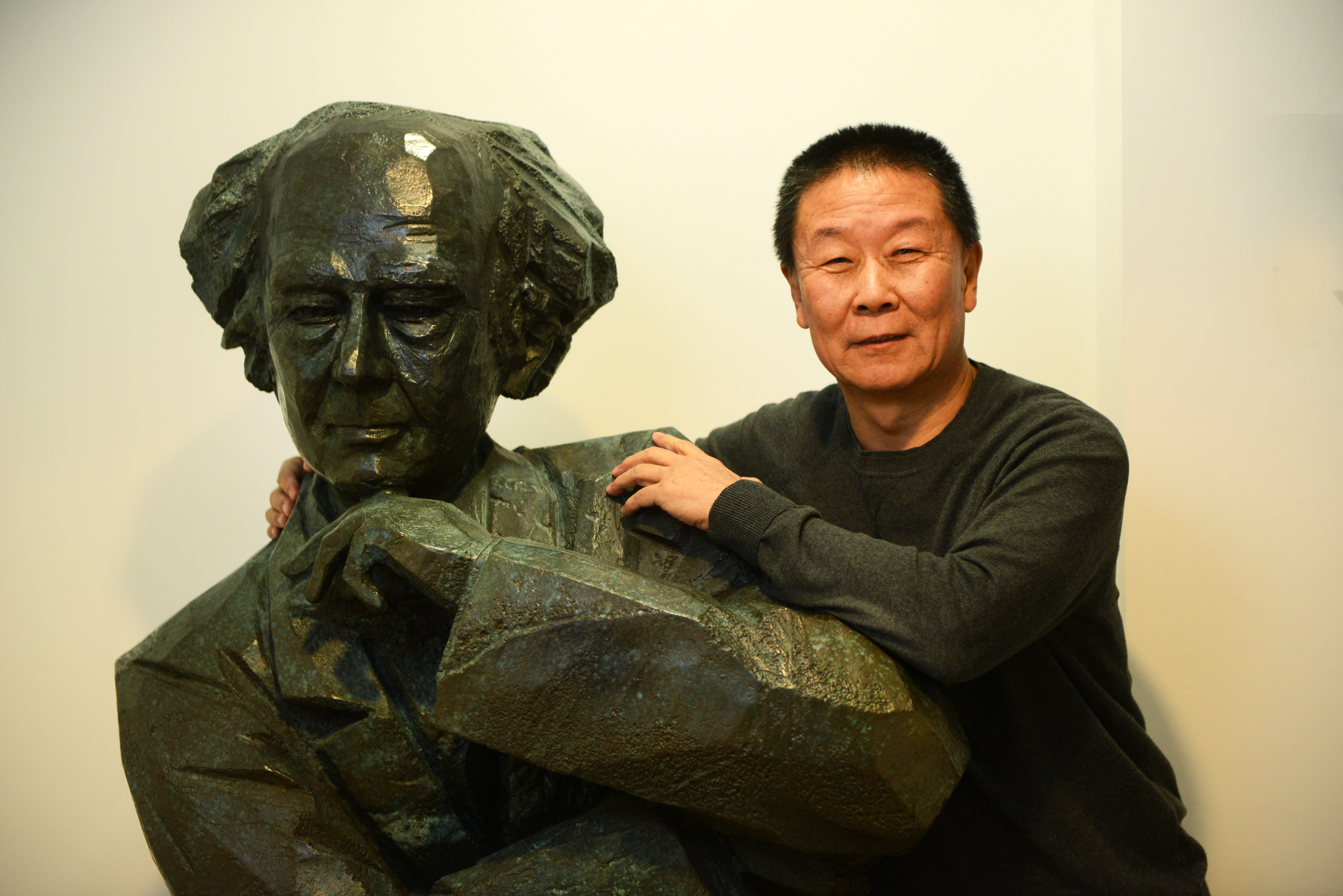 In this photo taken by Richard Cave, Qu Leilei is seen with a sculpture of his friend the famous art historian, Michael Sullivan. Michael said of Leilei,
"What is so special about Qu Leilei? Three things, I feel, mark him out. The first is sheer talent. As a painter and draftsman, there is nothing he cannot do. Surely the human hand is one of the most difficult things to draw: he draws hands beautifully; he makes them a powerful expression of thoughts feelings, humanity, and love.' (See Chinese New Year Blog to read about Qu Leilei's epic life.)
Qu Leilei Castaway
Qu Leilei at the Wimbledon launch of Brushstrokes in Time . I gave a copy of his book on Chinese Calligraphy to Katie Isbester of Claret Press. He kindly signed it in his elegant style.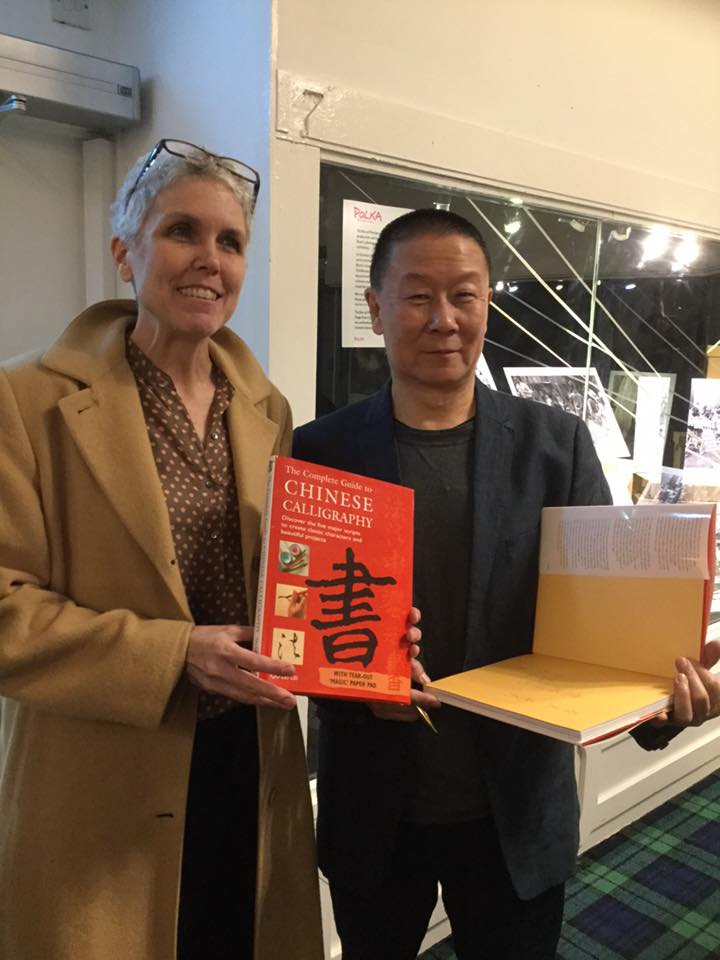 ZOE BROUGHTON
JANUARY 2016 castaway feature : DISPATCHES FROM THE FRONT LINE: AWARD WINNING VIDEO JOURNALIST ZOE BROUGHTON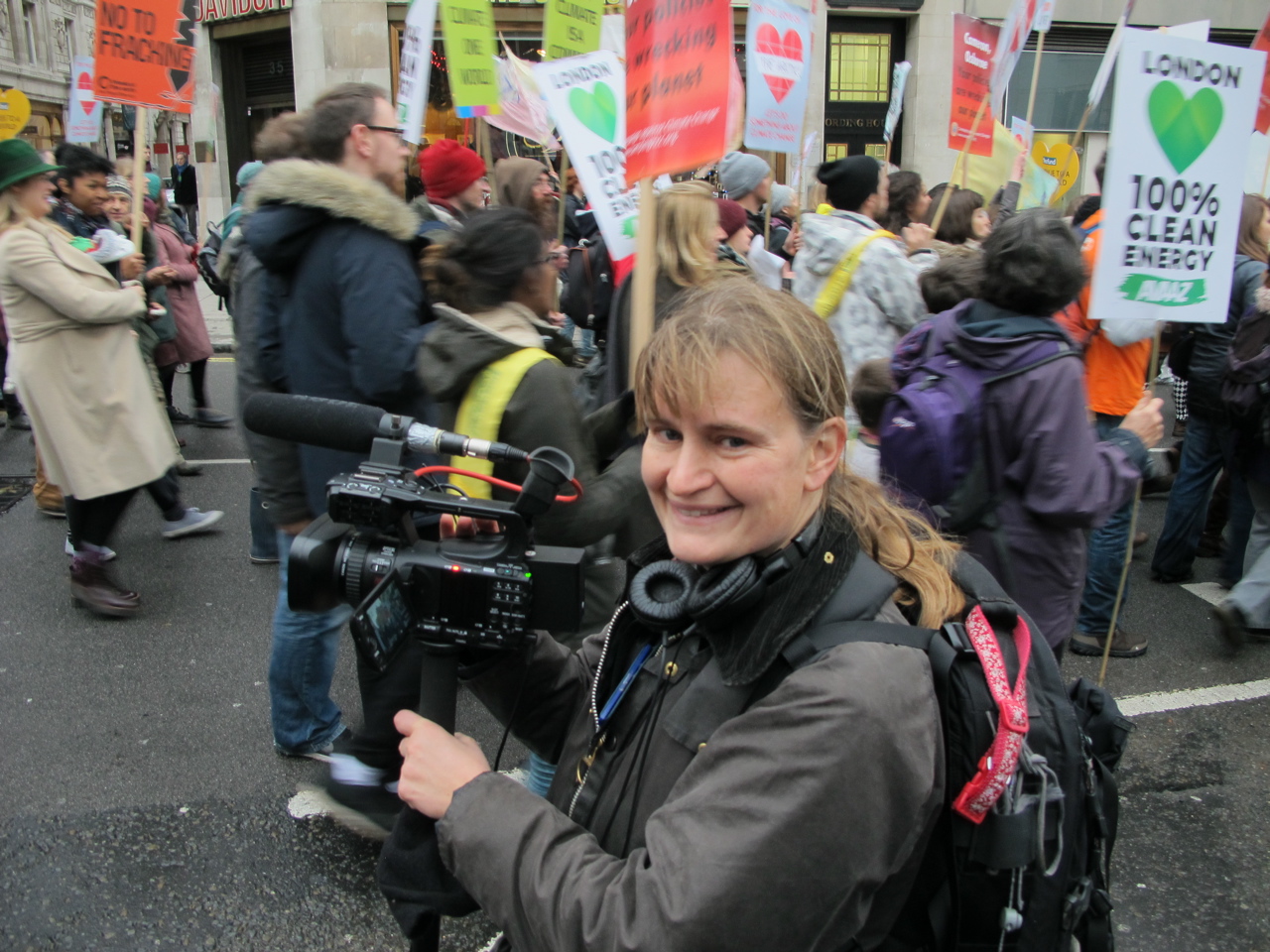 Zoe Broughton our January 2016 castaway, is a passionate, award-winning video journalist who has spent more than 20 years filming campaigns and putting herself on the frontline – going undercover at an animal-testing lab, and avoiding landmines while filming secretly in Burma (Myanmar). She even knows what it means to be arrested.
She made a joyful film when children's author, Ted Dewan, organised local residents in a project to turn Beechcroft Road, Summertown into 'a living room'. At least with that assignment her life was in no danger as the idea behind it was to slow down the traffic. But Zoe's zeal for social action has taken her into difficult places where she needs all her courage.
Zoe Broughton
LADY FIONA CARNAVON
The mistress of the real Downton Abbey was my February 2015 castaway. I took a trip to Highclere Castle to interview her. She is an avid reader and writer. Her books tell the true stories of the Herbert/Carnarvon  family and they are more interesting than the tales of the fictional inhabitants of the TV series. I met her when she and her husband opened the Discovering Tutankhamun exhibition at the Ashmolean. His great grandfather funded  Howard Carter's excavations. She has written about him  in her book 'Egypt at Highclere'.
Read her feature here: Lady Fiona Carnarvon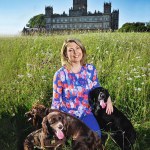 DWINA GIBB : October 8
The loss of her husband Robin Gibb in May 2012 is still raw for Dwina Gibb, but the births of her first grandson Maxwell Robin two years ago and a second grandchild Theodore this year have helped take the edge off her grief. Dwina relates a lovely story about how, while driving through a remote part of Rajasthan, she felt thirsty and pulled off at a small roadside café. As she walked in through the door she heard the sound of Robin singing 'I Started a Joke' . His music had reached every corner of the world.'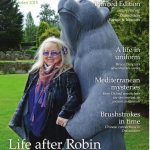 LORD PATTEN of BARNES: February 2014
 The Chancellor of Oxford University and last Governor of Hong Kong said,
"I was in effect an all-powerful mayor of one of the greatest cities in Asia, a city of six and a half million people which, when I left in 1997,was responsible for 22 per cent of the whole of China's GDP."
 Among  its growing population, Oxtopia can count a few Sirs and one Dame but in February a lord landed on Oxtopia and not just any lord but a former governor of the most opulent island on earth. I was rather nervous about this interview with the Chancellor of the University of Oxford and Chairman of the BBC Trust but  I needn't have worried,  Chris Patten was charming. We mostly talked about Oxford and China and he was open and approachable on both subjects. To read how he was treated like ' an ageing rock star'
click on this Pdf of the feature
.Chris Patten

ICOLYN SMITH
The power of love is at the heart of Icolyn's  story (August 2015)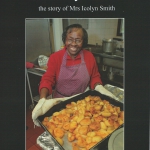 Often the people who are the most generous  are not  wealthy in terms of money. Icolyn is one of those.  Born to a subsistence farmer  in rural  Jamaica  she came to Oxford in 1965. Empathy  was all she had when she started the Cowley Road Soup Kitchen but it was soon feeding 60 homeless people. The story of how  she changed lives is inspirational. Click on the PDF and be inspired.
CASTAWAYS 64-69: ANTIQUES on HIGH
I returned to my roots to interview six dealers at Oxford's Antiques on High. Director of AonH, publisher Tony Sloggett also deals in books. Caroline Henney supplies costume jewellery to the stars of costume drama. For the Rev Jonathan Edwards,the General Secretary of the Baptist Union collecting and dealing in postcards provides secular escapism. Richard Shock is a physicist and wood turner, Jane Hanson a potter and Andrew Joyce art teacher and lover of Art Deco.
Antiques-on-High
The picture below was taken on the anniversary of Oxford Castaways. It was taken in Antiques on High and early castaways Sir Roger and Lady Moira Bannister , Colin Dexter, Korky Paul ,Bill Heine, poet Jenny Lewis, Director of The Oxford Preservation Trust, Debbie Dance and many more came along to welcome the latest 6.
<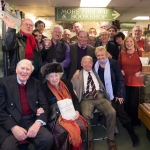 PAULINE GODDARD. July 2015
Celebrating 100 years of the WI with the Chairwoman of the Oxfordshire Federation.
AIDAN MELLER. (May 2015)
Gallery owner Aidan Meller's life journey was punctuated by rubbing with different worlds, self – doubt and a serious car crash. From childhood, a passion for art pulsed through his veins but he didn't envisage that enthusiasm would lead to a career. When he eventually engaged with the public as an artist he realised he had discovered himself.  Read his story here.
Aidan Meller   Watch this space! For six years he  has been working on a secret project he hopes to surprise us with in the autumn.
 GEORGINA FERRY (March 2015)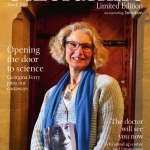 Our March 2015 castaway was the author, broadcaster and journalist Georgina Ferry. Georgina is brilliant at communicating science and telling stories about scientists to non scientists. She is the biographer of Dorothy Hodgkin of whom she said,"She was the least materialistic of people. She went to the States for three months in 1947 taking only one suitcase and most of that was filled with a model of penicillin. Another time a colleague encountered Thomas and Dorothy at Oxford Station carrying two carrier bags. He thought they had been shopping but no – they were off to Moscow.  Georgina Ferry (March 2015)
LEGS LARRY SMITH  (January 2015)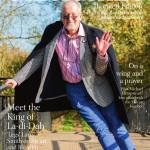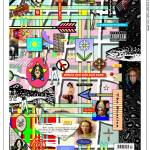 Larry is also an artist and he designed his own castaway cover (on the right)!
George Harrison of the Beatles gave the name of 'Legs' to my January 2015 castaway, Larry Smith of the Bonzo Dog Doo-Dah Band. George also called him King of La-di- Dah and even wrote a song about him. He introduced him to New-age guru Depak Chopra. So read all about it in Oxfordshire Limited Edition. If you don't live in Oxfordshire you can still access the magazine via The Oxford Times website .Click on 'e editions' then on 'archive' and finally on the picture of Larry. Or you can read the feature here.  Legs Larry Smith
PROFESSOR RICHARD PARKINSON (December  2014)
Richard Parkinson . As well as being an expert on ancient Egyptian poetry,  Richard wrote A Little Gay History which draws on 40 objects, ranging from prehistoric carvings to prints by David Hockney. One reviewer said that its "academic power made it as explosive as a bombshell."  His book tries to present the diversity of human desire across the world from Indian gods to the Emperor Hadrian. To read his delightful story click on the Pdf.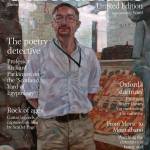 NANCY HUNT (November 2014) 
Nancy Hunt was born in Kenya.  I urge you to read her inspirational story on the pdf below.Nancy was awarded the NatWest Venus prize for the most inspirational woman in Oxfordshire 2014. Of her mother she said, "You don't have to be a hero to change the world. Whatever our weaknesses, we can all change the world for the better –we just have to want to." Nancy has changed lives for the better of hundreds of disadvantaged children in Oxfordshire and in Kenya.  Read her story here – Nancy Hunt   
In this picture , taken in January 2015,  I am with Nancy after she was awarded the NAT WEST Venus Award for 'Most Inspirational Woman'.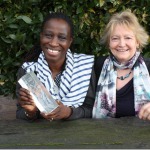 JOHN BUCKLEY
Sculptor. Locally, John is best known for making Bill Heine's shark but he also created an anti-war memorial for the International Campaign to ban Landmines (MAG). John was on the trust of MAG when the organisation was joint winner of The Nobel Peace prize. As an artist he has literally journeyed  into the dark heart of conflict in Cambodia, Sudan and Haiti. John made a bronze sculpture called Bladerunner for the Cultural Olympiad.
John Buckley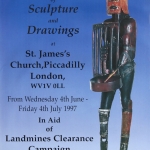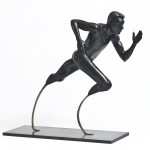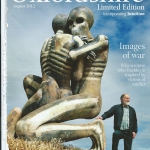 Life on the Funny Side : Richard O Smith April 2016 Castaway
2016 is the 400 anniversary of the death of the Bard . A character particular to
Shakespeare's plays is the clown with a philosophical turn of phrase and a sardonic wit. One man who recognises such a character is surely Richard O Smith, whose latest book Town and Clown is mostly an anthology of his features published in Limited Edition's Oxford Examined column. Not all Richard's books are Oxford based but it is good that the city can be portrayed as a place of comic relief as well as a hot-bed of fictional murders. And as well as writing for magazines, he writes jokes for programmes like The Now Show and other comedy programmes on Radio 4 .
Read the feature here: RichardO.Smith
April 2016 When so much is so wrong in the world it is great to hear some good news. Patricia Scotland was the first black woman QC, and Attorney General and now the first woman Secretary General of the Commonwealth. I have been privileged to meet her several times because she is a close friend of my friend and castaway Simonetta Agnello Hornby. Simonetta set up Hornby and Levy in Brixton and often instructed a certain talented young barrister called Patricia Scotland. She is a wonderful person and an inspired choice to lead the Commonwealth. http://www.patriciascotland.com/#!news/cdk2. Simonetta was an early castaway and she kindly came from Herne Hill to Blackwell's for the launch of my novel Brushstrokes in Time . She is seen here with my son Justin. We met when he and Simonetta's son George were babies. Patricia would make a wonderful castaway but her connections with Oxfordshire are not significant and castaways have to have links to the county.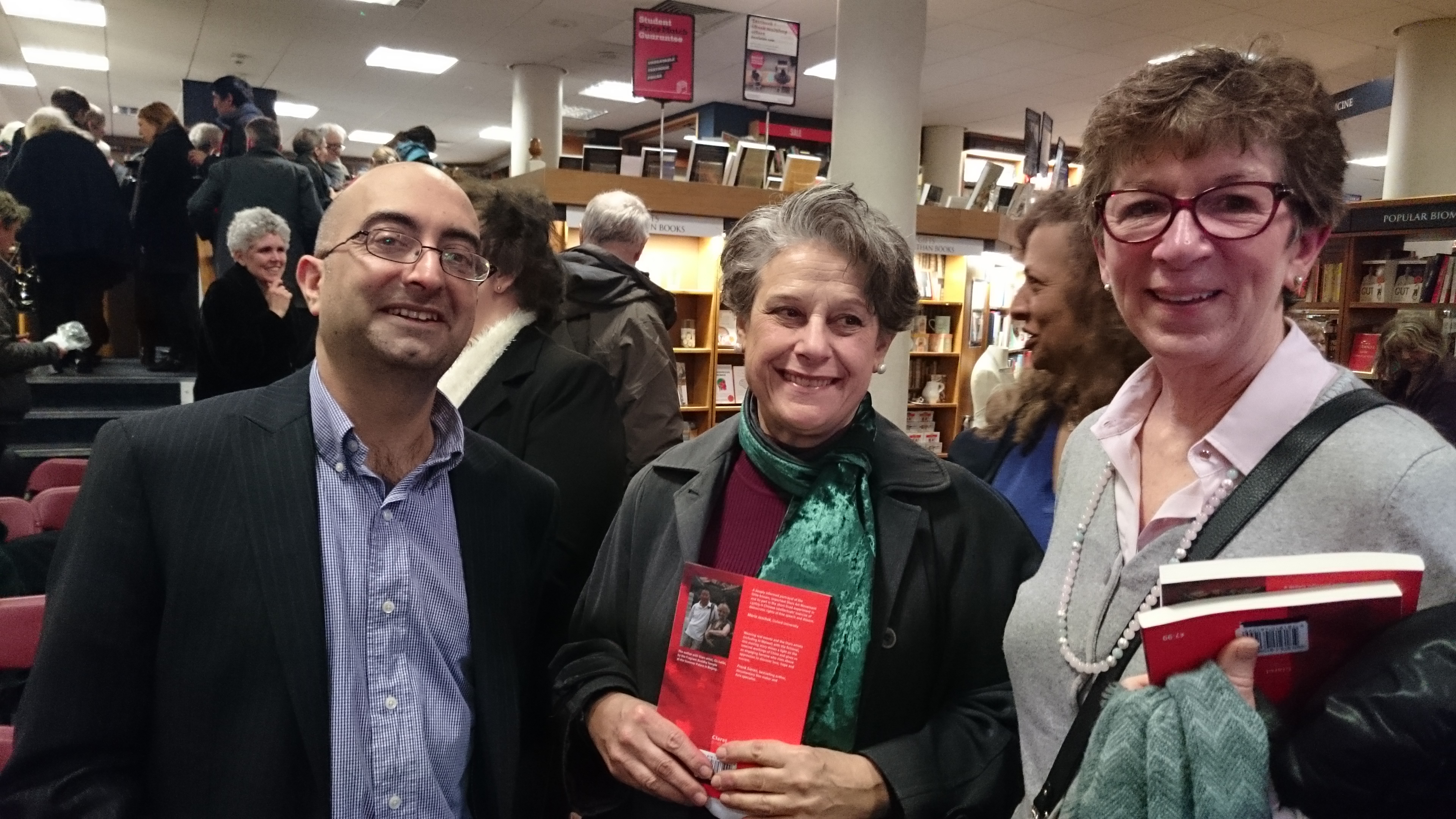 March 30 2016 : I was saddened to hear of the deaths of two castaways. Bernard Saunders was the founder of Art in Action one of the biggest art events in the UK. Qu Leilei told me about the early years of Art in Action and how it helped him to earn his living as an artist when he arrived in the UK knowing almost no one. Bernard Saunders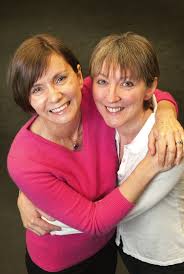 The death of Rebecca Allison aged only 47 is such a tragic waste of talent. I castaway Rebecca with composer pianist and writer Nia Williams.They often worked together as Mezzopiano.Both Bernard and Rebecca were wonderful examples of human beings whose lives radiated love.
Mezzopiano
CHRISTOPHER  BROWN (September  2014 )Christopher Brown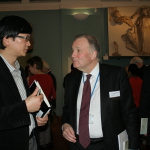 Christopher Brown at the launch of Oxford Castaways in the cast gallery at the Ashmolean. (March 2012) Talking to Weimin He  who designed the cover.
PROFESSOR SIR ANDREW MCMICHAEL:
This castaway has led  A Life Scientific. Professor McMichael, who set up the Medical Research Council Human Immunology Unit in 1998 and was director of the Weatherall Institute says, "…science too can be beautiful."
FELICITY DICK
Felicity's story is connected to that of W. Lucy &Co whose industrial heritage is part of the Oxford landscape. Following her work in the community as a Deputy Lord Lieutenant  is like discovering the social fabric of Oxfordshire.
TISH FRANCIS & KIM PICKIN
American artist and children's writer Ted Dewan calls Oxford the Hollywood of stories. If he is right, then my castaways for April 2014 are the Queens of those stories. Kim Pickin had a dream of creating a museum which would celebrate children's literature. Tish Francis brought her expertise for resurrecting old buildings to a new life and so, once upon a time began the Story Museum.
TishFrancis and KimPickin-Story Queens
MEZZOPIANO : REBECCA MARTIN & NIA WILLIAMS
For me, the castaway series has come close to home this month. I was the founding chairman of Kennington Amateur Dramatic Society and we wrote our own script for our first pantomime calling it "Ali Baba and the Beggars of Bagley Wood." Rebecca's father the artist Philip Martin played the dame and he encouraged the eleven year old Rebecca to take part; her voice was beautiful even then. Nia is the accompanist to the 70 strong Kennington United Choirs, directed by Trevor Cowlett, who do all their concerts for charity. While Becca's mother, Valerie Martin and I organise the food, Becca arranges the fabulous entertainment for the opening of the KOA year. There are plenty of surprises in their stories.
This picture of Rebecca and I was taken at the Fifties Fandango, the Spring Gala night for KOA which we together organised every year for 12 years. I will miss her. She died suddenly and unexpectedly on March 21 of Meningitis. Readers of this feature will appreciate that she touched many lives with love and with fun.Mezzopiano.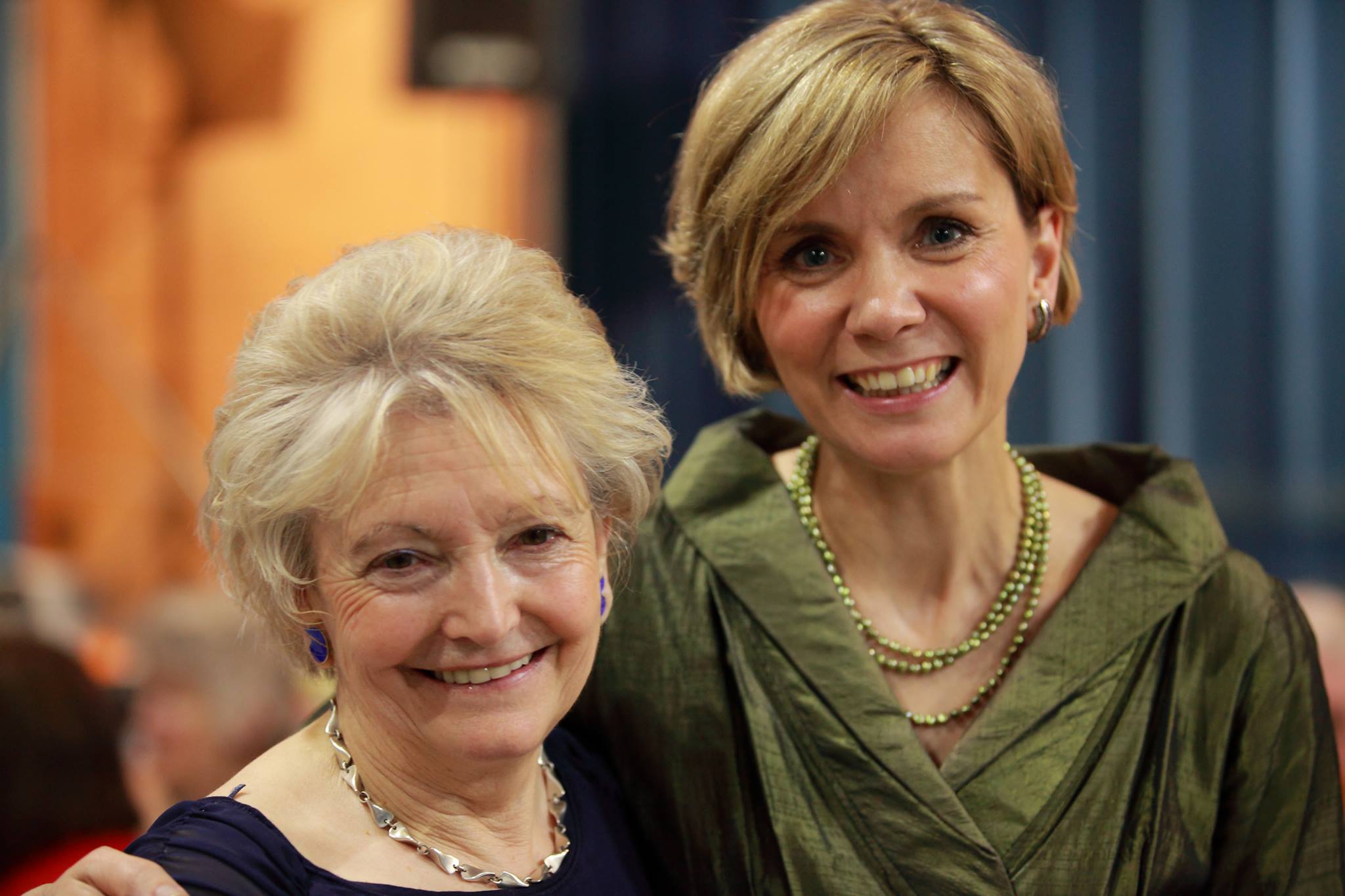 KATIE READ ( June 2015)
Katie has lovely stories to tell of working as assistant director to Harold Pinter.
Entrepreneurial, she has just set up her own company The Saturday Matinee  Company.
 LIVE FRIDAY CASTAWAYS January  2014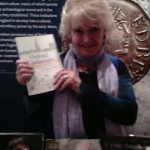 The Ashmolean has always been a place where Town and Gown meet but if you need evidence of its open doors then visit a Live Friday event. I did just that in September 2013 when the theme of the night's revelry was What's The Story? A day in the life of The Oxford Times.  Tim Hughes for The Oxford Times and Sarah Mayhew Craddock got together to prepare an evening of entertainment which represented the dynamic cultural life of Oxford.
I placed myself next to The Alfred Jewel – Christopher Brown's desert island choice and waited to see who would come by and be prepared to be castaway. It was hard choosing the eight for January's castaway feature but I tried to reflect the diversity of the visitors and indeed of our wonderful city.      Jan 2014 LE
OXFORD CASTAWAYS 2 was published by Oxfordfolio in April 2014.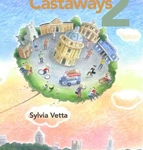 It brings together the stories of 40 castaways  starting with  Nic Moorbath who was  the heartbeat of the Oxford rock scene for two decade
NIC MORBATH  Castaway 51
(The first 50 castaway stories are in OXFORD CASTAWAYS)
Oxford musician, club and recording studio owner and co-organiser of the Radiohead concert in South Parks (2002).
Nic Moorbath
 PROFESSOR BARRY CUNLIFF
Castaway 52 is the archaeologist who uncovered the Temple of Sulis Minerva (Bath) and Fishbourne Palace.
THE REVEREND CHARLOTTE BANNISTER PARKER
Castaway 53,  as a TV documentary maker, Charlotte was the last journalist out of Behatch during the Balkan conflict and is Executive Director of The Children's Radio Foundation. (CRF) CRF reaches 7 million African children.
Charlotte Bannister-Parker
DAI RICHARDS
Dai has made documentaries for Newsnight, Panorama and for Thames TV and Al Jazeera. When researching for a film on the Battle of Kursk, Dai was handed a skull reported to be that of Adolf Hitler!  For his castaway feature Dai was photographed  in the Duke Humfreys' library holding up a Russian teapot in the same way as he had  held Hitler's skull. Click on the link to Dai's website for a glimpse of some of his documentaries.
Dai-Richards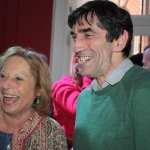 STEVE and ANNA TOLAN

Steve and Anna resigned from The Thames Valley Police Force and headed for a very different beat. They founded The Chipembele Wildlife Education Trust and have set up home in The Luanga Valley in Zambia.
PEGGY SEEGER

American born but living in Oxford, Peggy is probably the nearest thing the folk music scene has to royalty. Her mother Joan Crawford Seeger was the foremost female composer of modernist music in the early C20th. Pete Seeger is her half- brother and she was  the partner of Ewan MacColl but her own adventures singing across Europe, America and into China in the fifties means she is a legend in her own right.
Peggy and I got to know each other on the back seat of small vintage MG. You can see it on Philip Hind's film. Click on the link to him or KOA.
Castaway number 40 Weimin He sketched Peggy at KOA Fifties Fandango.
Peggy Seeger
JO THOENES
Kenyan born, the Radio Oxford broadcaster began her career in Nairobi.
Jo Thoenis
CASTAWAY 61-MICHAEL ROSEN   
December 2012
The former Children's Laureate, poet and broadcaster has the wonderful title of Curator of Stories at The Story Museum. After Oxford, he began his career at the BBC only to be black listed when it was realised that, as a student, he had been arrested demonstrating outside a hairdressers in Oxford where they operated a colour bar.
CASTAWAY 62 -PROFESSOR JOHN DEWEY
John was part of the team of geologists who discovered plate tectonics. He has delved into deep time all over the world.
Professor John Dewey
CASTAWAYS 64-69: ANTIQUES on HIGH
I returned to my roots to interview six dealers at Oxford's Antiques on High. Director of AonH, publisher Tony Sloggett also deals in books. Caroline Henney supplies costume jewellery to the stars of costume drama. For the Rev Jonathan Edwards,the General Secretary of the Baptist Union collecting and dealing in  postcards provides secular escapism. Richard Shock is a  physicist and wood turner, Jane Hanson a  potter and Andrew Joyce art teacher and lover of Art Deco.
Antiques-on-High
The picture below was taken on the anniversary of Oxford Castaways.  It was taken in Antiques on High and  early castaways  Sir Roger and Lady Moira Bannister , Colin Dexter, Korky Paul ,Bill Heine, poet Jenny Lewis, Director of The Oxford Preservation Trust, Debbie Dance and many more  came along to welcome the latest 6.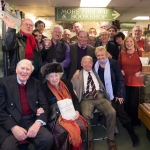 CASTAWAY 70-HELEN PEACOCKE
Oxfordshire born and bred, Helen Peacocke on her 70th birthday. The prolific writer for the Oxford Mail and Times is best known for her writing on food and her 'Paws' books of walks with dogs to pubs. But Helen had a long and rocky journey to fulfil her dreams of being a writer.
 CASTAWAY 71-VICTOR GLYNN
Think of any great British actor and it's a good bet that they have worked on a Victor Glynn production. Nigel Hawthorne, Leo McKern, Judi Dench, Ian Richardson, Nigel Havers, the young Hugh Laurie and even Gandalf! Victor's is an on-going story to delight cinema lovers. In August, co-producer Victor and the Oscar winning Argentinian director, Juan José Campanella launched their latest film, Foosball, to record audiences in Argentina. The English version of this Toy Story – like animated movie of a football adventure will be released in the UK  on August 17 after the World Cup. It will be titled The Unbeatables.
Victor Glynn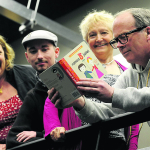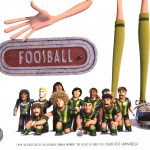 ROGER NEILL:(October 2014)
Roger Neill is our first castaway with experience as an advertising executive. He can claim to have produced one of the longest running UK TV campaigns – the still used four decades old one for Fox's Glacier Mints. Roger became World President of the International Advertising Association from 1990-1992, so if our island's ninety inhabitants feel the need to promote themselves they will have the advice of a world expert. But there is a lot more to this month's castaway than developing advertising campaigns. He writes, speaks and conducts master classes and workshops around the world on the subject of creativity and innovation. And he helped Sam Wannamaker realise his dream.
This is a tale of 4 continents:  Roger Neill 
 PIPPA SHIRLEY
Head of Collections at jewel in the crown of the National Trust, Waddesdon Manor. As a child growing up in Nepal, she was sad to leave behind an orphaned baby leopard they were rearing.
Pippa Shirley and Waddesdon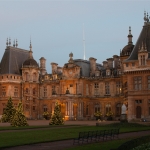 CASTAWAY 73-EUTON DALEY
I interviewed Euton as he was about to stand down after being CEO and Artistic Director of The Pegasus Theatre for 23 years. During his time at the helm, he oversaw the youth theatre's transformation. His own transformation from early childhood in Jamaica to a back to back house in Aston, Birmingham is the stuff of drama.
Euton Daley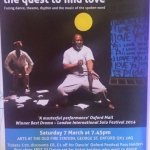 CASTAWAY74 -IKE GARSON
Ike isn't famous but he's a man who has made a huge difference to thousands of lives both in Oxfordshire and in Uganda. He's also the first Gibraltarian on Oxtopia which should equip him well for life on a small island. www.lunch4learning.org.
 CASTAWAY 75 – COLIN GREENWOOD: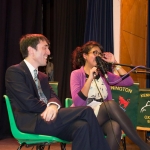 Bass guitarist of the iconic Oxford rock group Radiohead. Colin is also Global Ambassador of the Children's Radio Foundation but where-ever he travels with Radiohead or CRF he always returns home to Oxford.
To see Colin at World Radio Day and  fellow castaways Peggy Seeger ,Charlotte Bannister Parker and Bill Heine watch Philip Hind's film on; http://vimeo.com/philiphind/koa
Colin in his role of CRF's Global Ambassador being interviewed by 17 year old Naiha Masih. It was broadcast live by Voxbox.
CASTAWAY 76 – PHILIP HIND
Philip is the first web designer to land on Oxtopia. To see clips from some of his local interest films click on the link Philip Hind. Fellow castaways appear on some of them. They include Peggy Seeger, Bill Heine, Brian Aldiss, Charlotte Bannister Parker and a glimpse of Colin Greenwood too.
Philip Hind
Philip is the first castaway to consider taking a piece of coal to Oxtopia. Click on the Pdf link to read the gripping tale of the reason why.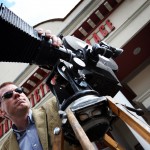 CASTAWAY 77 –  DR TAJ HARGEY
Born in apartheid South Africa, Dr Hargey knows what it is like to live under threat.He is the most progressive Imam in the United Kingdom and the only one who will conduct a marriage ceremony for a Muslim woman who wishes to marry a non-Muslim.
Taj Hargey
CASTAWAY 78- JOANNA HARRISON
In time for Christmas, the art director of the charming Snowman and The Snowdog.
Joanna also worked on the animation  of the original  'Snowman' film and is author of a children's book
with which mothers can identify-' When Mummy became a Monster'.  Joanna Harrison