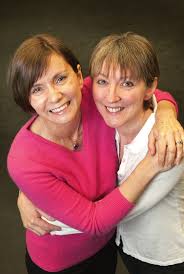 I am still in shock at the news that Rebecca Alison (nee Martin) died yesterday at a tragically young age. I was privileged to interview her and Nia Williams for Oxfordshire Limited Edition. I sent them to Oxtopia as Mezzopiano. They performed at the launch of Oxford Castaways 2published by Oxfordfolio in which they also feature. Here is the mostly biographical Pdf.Mezzopiano
The feature contains a surprising story given that Rebecca was a professional singer and teacher of music. It tells of her struggle to overcome the onset of tinnitus and has good advice for anyone who suffers from it. Not everything in her life was easy but she would not know how to complain but I am complaining that such a beautiful person has been taken from us.
I have known Rebecca since she was a small child. When I started Kennington Amateur Dramatic Society my boys and Rebecca were among the first children to join. Her talent was obvious even then. She and her family lived for a time in Italy when her husband James first went to work for Ferrari. When they returned to England in 2004, I had the privilege to work with her for the past 12 years organising the opening event for KOA.
Her beautiful mezzo voice meant she was Kennington Choir's soloist of choice for their classical repertoire. She was to be a soloist in Mozart's Requiem in Exeter College Chapel in April. Mozart died at a young age just after writing the Requiem. It is hard to think of a more poignant piece to be sung in her honour. Rebecca and Nia Williams started the Musical Youth Company of Oxford. They are due to perform at the Playhouse next week. The young performers have so much to thank her for.
Rebecca has been secretary of KOA for 8 years. In this delightful little film clip she calls herself a KOA baby! https://vimeo.com/67651890
I'm sure Rebecca never thought an unkind thought in all her life. You will see from the film clip that she radiated love, generosity of spirit and fun. She could make us laugh but also touch our hearts with deep musical experiences. What a gift and what a dreadful loss.
Some more pics of Rebecca and her friends and one I'll always treasure of her with me at a KOA Gala Night when she and her friends and the folk singer Peggy Seeger entertained us in Kennington. Here is the chapter on Rebecca in I Love You All ,the story of Kennington Choirrebecca. in I Love you All pdf
Nia wrote this story of two German sisters and Rebecca sang both parts in three languages. It was performed at the Old Fire Station and at Kennington when we celebrated the re-opening of our refurbished library.