Before the Oxford Castaways books and my three novels,  I produced a book of ten mostly five mile circular walks for KOA.  They were originally led by Jack and Margaret Ibbott, who I thought had walked every inch of Oxfordshire's  footpaths.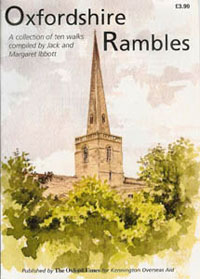 Because of Oxfordshire Rambles , The Oxford Mail asked me to suggest walks for their readers .
Here is one of them: https://www.oxfordmail.co.uk/news/19386891.enjoy-ramble-takes-iffley-village-oxford/
I'm so lucky to live on a beautiful stretch of the Thames . Wanting to encourage families to get  children walking and connecting with nature, I've recently written a short series of 1-2 mile shire walks in Tuesday editions of The Oxford Mail.
https://www.oxfordmail.co.uk/news/19452310.enjoy-circular-family-walk-around-kennington-sandford/
https://www.oxfordmail.co.uk/news/19436233.watch-wild-birds-circular-walk-radley-lakes/
https://www.oxfordmail.co.uk/news/19419579.fascinating-walk-families-ancient-pit-near-abingdon/
Some local readers of Sculpting the Elephant asked me to suggest a walk that took in the locations in my novel.  This takes you to the Oxford most tourists don't visit – Harry King's TOWN sites as well as to the spires of Ramma Gupta's  'gown.'
 https://www.sylviavetta.co.uk/2021/07/05/the-sculpting-the-elephant-an-alternative-town-and-gown-tour-of-oxford/
If you go to London, here's an unusual London walk compiled by my fellow Claret Press author Julie Anderson . There are a lot of intriguing underground locations in her thriller The Plaque