Did you listen and watch the first Reith lecture by Mark Carney? The topic was 'From moral to market sentiments'
https://www.bbc.co.uk/iplayer/episode/p0900t1x/the-reith-lectures-2020-mark-carney-how-we-get-what-we-value-lecture-1-from-moral-to-market-sentiments?
It came as a surprise when in answer to a question by Anita Anand, he said he had taken inspiration from the Headington Shark!
Those of you who don't live in Oxford may wonder what that is. Bill Heine,  a lad  from small town  Illinois  came to study in Oxford  and stayed . He became a cinema owner and a broadcaster. Bill bought a not unusual terraced house around the corner from a suburban shopping street .  When planes  which took off from nearby Upper Heyford  filled with bombs to drop on  Libya passed overhead , he sat and discussed it with his artist friend John Buckley. That discussion led to a huge shark piercing the roof of his house.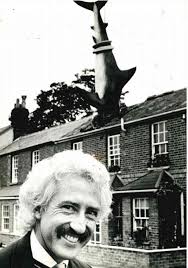 Mark Carney didn't mention the late Bill Heine or the artist John Buckley who made the shark which inspired him. He simply said it made him bear in mind the inevitability of the unexpected.
For the ten year Oxford Castaway series I interviewed both the owner of that house  and the artist . Because of his flamboyant personality and  career on local radio , Oxford residents associate  the shark with the late and much missed Bill Heine . Ask who made it and few know the name  of the sculptor who, in my opinion should be better known . John Buckley has lived an amazing life. John was with MAG (Mines Advisory Group) in Cambodia and went to Stockholm with them to receive the Nobel Peace Prize jointly given to two landmine clearance ngos.
Below is a pic of Bill and John together. I also castaway Bill .   John's sculpture Embrace was his castaway  object- That's another story ! I'll put a link to that story below the photo.
Here is his surprising  previously untold Oxtopian story- click on this link  .John Buckley